Feel the fear and do it anyway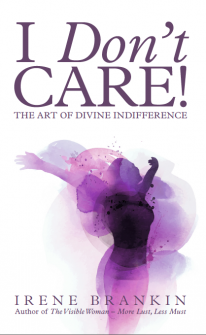 I Don't Care: The Art of Divine Indifference
Do you find yourself doing things just to please other people, or because you think you ought to be doing it, even if you don't want to?
This book will guide you on your personal transformation, enabling the longed for journey to re-connect with the 'you who has always been there' – Yourself.
Click here to buy 'I Don't Care!'.
The Visible Woman: More Lust, Less Must
Ageism is rife in our society and particularly so for women. Once over the age of 50, we are portrayed as too old, past it, invisible and sometimes even replaceable, both at home and in the workplace.
This is your time to relish and enjoy the next part of your life. Ready?
Click here to buy The Visible Woman.
Quotes & The Visible Woman Manifesto
Funny, Inspiring & Wise Quotes
The Visible Woman Manifesto
Auntie Irene Podcasts
Think of me as your favourite agony auntie. The one you can share your problems with. You love that I'm from Glasgow, you know the advice will be straight to the point and backed up with my psychological insights.
Contact Irene